Standards for Professional Learning
Standards for Professional Learning offer educators the latest knowledge and insights to design, implement, and sustain high-quality professional learning.
Standards lead to environments in which educators and students have equitable access to powerful learning.
Hover over and click the graphic to explore the standards in more detail and navigate through the site.
This website is loaded with information and tools to power your work to establish, refine, and evaluate professional learning. Follow the steps below or customize your own learning journey.
Explore all 11 Standards for Professional Learning to build awareness.
Read the Essential Reading section to understand how standards shift results.
Choose either a relevant Action Guide or dig into Research to go deeper.
Meet with colleagues to determine your next steps.
Order your copy of the book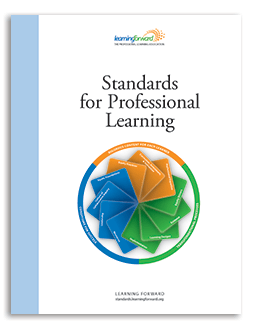 Order your copy of Standards for Professional Learning now! Includes the full explanation of each standard, a rich introduction explaining the history and foundations for standards, and a crosswalk to the previous version. Using the book supports individual and team study and ongoing discussions for educators committed to long-term implementation.
The book is $20 for Learning Forward members/$25 for non-members with volume discounts available. Purchase in our bookstore through this link.