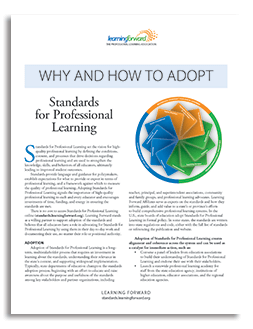 Education policy and education practices inform and influence each other. That is, when states, school systems, and other jurisdictions adopt Standards for Professional Learning in policy and tie adoption to the actions that impact practice – for example, integrating standards into educator performance processes or requiring standards alignment in district planning – practice changes as a result. At the same time, when policymakers are convinced by compelling evidence that standards strengthen outcomes in schools, they adjust policy to reinforce their use.
To date, 35 states and many districts have adopted or adapted Standards for Professional Learning into practice. As more states, systems, and other jurisdictions move standards into policy, Learning Forward will share documentation here.
Read more here for information on how and why to consider standards adoption.